Brilliant Near-InfraRed (NIR) Fluorescence Intraoperative Imaging

Changing the Way You See Your Patient
Game Changing 4K 3D Big Screen Observation
The ORBEYE Near-Infrared Imaging mode provides brilliant 4K 3D intraoperative ICG fluorescence in the cerebral vascular area.
ORBEYE's dedicated LEDs directly produce the required wavelength without relying on filter technology.
This ensures brighter illumination of the ICG distribution through the vascular structures.
ORBEYE 4K 3D IR
ORBEYE 4K 3D IR
Conventional surgical microscope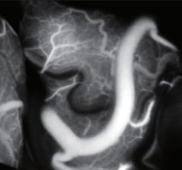 ORBEYE 4K 3D IR
Big Screen 4K 3D IR Observation
ORBEYE provides brighter NIR fluorescence imaging in 4K 3D, allowing surgeons the ability to perform surgery under NIR fluorescence filter.
4K resolution and realistic 3D image perception combined with magnification capabilities up to X26 under NIR fluorescence filter.
Three Illuminating Reasons for ORBEYE NIR intraoperative imaging
Exclusive optical design for ORBEYE exoscope that does not divide the optical path
Adoption of back-illuminated 4K imaging device (Exmor R)
Adoption of optimum LED light source for NIR observation